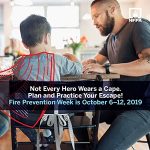 On October 8th, 1871, the Great Chicago Fire broke out. This fire caused 250 deaths, destroyed more than 17,400 structures, left 100,000 homeless, and burned more than 2,000 acres of land. Every year, on the week of October 9th, Fire Prevention Week is recognized to commemorate this tragic event.
This year Fire Prevention Week is October 6th – 12th. During Fire Prevention Week, take time to learn how to stay safe in case of a fire so that you can protect yourself and those around you.
"Not Every Hero Wears a Cape. Plan and Practice Your Escape!"
This year, the theme for Fire Prevention Week is, "Not every hero wears a cape. Plan and practice your escape!" This theme highlights the importance of making a fire escape plan for your home and practicing what you can do during a fire to stay safe.
Make Your Home Escape Plan
In a typical home fire, you may have as little as one to two minutes to escape safely after the smoke alarm sounds. When every second counts, it's very important that you're prepared and know what to do during a fire. Planning and practicing a home fire escape plan can help you make the most of the time you have to escape.
Here are some steps you should take when making a fire escape plan for your home:
Draw a map of your home with all doors and windows.
Visit each room in your house and find two ways out.
Make sure that all doors and windows can open easily so you can use them to get outside.
Make sure your home has working smoke alarms. Test them to see if they work.
Pick a meeting place in front of your home.
Talk about your escape plan with everyone in your home.
Make sure everyone knows how to call 911 or the local emergency number.
Practice your home fire drill.
Be a Hero in Your Home & Community
According to an NFPA survey, only 1 out of 3 American households have developed and practiced a home fire escape plan. During this Fire Prevention Week, you can be a hero by taking small, but important actions to keep yourself, your family, and those around you safe from a fire. One of the easiest ways you can protect your loved ones is to plan and practice a home escape plan. When the smoke alarm sounds in an actual fire, it will be too late to start making a plan.
Interested in learning more about how you can participate in Fire Prevention Week? Visit the NFPA's website for great resources and materials. Learn how to make an escape plan and raise public awareness about the importance of fire prevention.