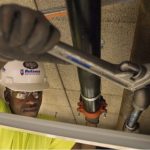 Fire safety is an important building feature that can be overlooked, especially in older or already existing buildings. Fire systems are continuously advancing to better protect homes, businesses, and individuals. Whether your home was built last year or decades ago it is never too late to install a modern fire system. Retrofitting buildings for fire protection involves modernizing safety in any age structure. The possibility of retrofitting fire systems comes with many benefits, making it an easy and available option to protect your facility.
Modernize Fire Protection
One of the main benefits of a retrofit fire system is that it can modernize the fire protection of an older home or building. Some buildings may be built with old, ineffective, outdated, or even nonexistent fire systems, but it doesn't have to stay that way. A retrofit fire system can enhance the protection of a home or even a historic building while still preserving the features you love. Systems such as fire alarms, fire sprinklers, and fire suppression systems can all be retrofitted to the needs of your structure. Fire systems back then were not capable of the same protection as fire systems today.
Keep Up to Date With Your Buildings Fire Codes
Fire codes are always evolving as we become more educated and advanced in fire protection. As codes evolve, older buildings tend to fall behind in areas of fire protection. Your trusted fire protection company, such as Reliance Fire Protection, can help design and fit a system to your building that is up to standard fire codes. Fire safety standards are made to protect a building's structure as well as its occupants which is why it is so important that no matter how old your building is, an up-to-date fire protection system should be present.
Customizable Fire Protection
Every building has a different layout, different occupants, and varying assets to protect. With retrofit fire protection systems, you can customize your protection options based on your building. If your building just needs standard protection of putting out a fire then a fire sprinkler system may be your best fit. If your building contains numerous chemicals or valuable assets that may be damaged by water, then a suppression system may be a better fit. Whether your building is large or small, welcomes many occupants or very little, holds a lot of valuables or not, there is a retrofit fire protection system for you.
Minimal Installation Disruption
Another benefit of a retrofit fire system is the minimal disruption in the installation process. With the advancement in fire technology and BIM capabilities, installing retrofit fire systems can be very fast and efficient. There is no need for extensive structural changes which allows the building owner to quickly get back to their daily activities. It has never been easier to install fire protection systems so there is no excuse to avoid installing safety in your building.
Retrofit with Reliance
At Reliance, we prioritize protecting our customers from fire hazards. That is why we will work with your building, old or new, to retrofit a fire protection system that is best for you. With our NICET certified design technicians we can design a system for your building, as well as provide minimal downtime and disruption from our installation team. Reliance offers both fire sprinkler systems and special hazard systems depending on the needs of a facility. Call us today at 443-989-3000 if you are looking to retrofit your building with a fire protection system.