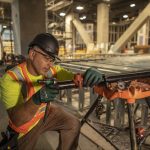 According to the National Fire Protection Association, of the 25 large-loss fires in 2016, there was a total property loss of $348.6 million dollars in the 22 fires that involved structures. This is a staggering number by any standards. There are many reasons to install a fire protection system and this is one of them. Even if your facility is already built or you purchased an older building, it is not to late to retrofit your building with a fire protection system that will help protect your assets and the people inside.
Retrofit Your Building with a Fire Sprinkler System
Retrofitting your building with a sprinkler system or suppression system, depending on the type of asset you want protected, is becoming more prevalent in today's world. The fire codes are starting to enforce that most structures being built, and even some that are already existing, should have a fire protection system installed to help protect lives and the structure itself. With today's technology and BIM capabilities, retrofitting your existing structure has never been easier. Making your fire protection system fit seamlessly with your structure is very important.
Different Fire Protection Systems
There are a few different sprinkler systems that can be installed depending on the code for your type of facility. There are systems that use the existing water source and another that has a separate well with its own pressurized system. Each one has it benefits and depending on what type of facility you have, you could possibly have either one installed. To use the existing water source is cheaper, but to use a separate well with a pressurized system is needed for larger facilities with more coverage area.
A suppression system is used when your assets are either highly delicate or a special hazard that requires something other than water. With the latest improvements made in fire protection, you can have a fire protection system that will put out the fire and not damage your assets if the system was triggered. These systems are highly recommended in art galleries and museums. Also if your company is working with hazardous material, a special fire protection system may be required in order to safely put out the fire.
Certified Team Members, Years of Experience
At Reliance Fire Protection, we have NICET certified designers who will design your system and a highly trained and certified installation crew to get your new fire sprinkler system in place quickly and efficiently. We will work with any type of building and help you find the proper fire protection system to protect your assets and the people inside. We are BIM capable and do maintenance on all types of systems to make sure your fire protection stays fully functional. We have expertise with all types of fire sprinkler systems and special hazard systems and can help you choose which one is the right one for your retrofit. Call us today at 443-989-3000 to get your free, no-obligation quote as we would love to work with you.