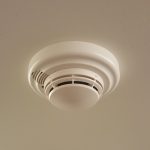 There are many different makes and models of smoke alarms and smoke detectors available in the market today. There are many ways to have them installed and where you locate them. Determining the best possible smoke alarm for your application and how and if you connect them can be a challenge. There are smoke alarms that are better at detecting the particles from flames and others that are better at detecting the particles from smoldering smoke. The three types of smoke detectors are either ionized detectors, photoelectric detectors, or dual sensor detectors.
The Ionization Detection Alarm
The ionization detection alarm use a small electrical current that runs between two metal plates and sound when smoke disrupts the current when it enters the chamber. These alarms are best used for fast flaming fires. The particles are larger and can disrupt the current very quickly. This type of alarm alarms more quickly in a fast flaming fire.
Photoelectric Detection Alarm
The second type of alarm is a photoelectric detection alarm. This alarm uses a light source that when smoke enters the chamber, it scatters the light and hits the sensor which causes the alarm to sound. This type of alarm is best used in a smoldering fire that emits a lot of smoke before ever becoming a flaming fire. This type of alarm detects smoke nearly 15 minutes sooner in many tests then the ionization detector would detect the smoke.
Dual Sensor Alarm
The third type of alarm is a dual sensor alarm. It includes both the ionization detector and the photoelectric detector. This type of alarm accomplishes what the other two do in one alarm but not always as good as having one of each of them. Most fire deaths occur from smoke inhalation instead of fire deaths so this alarm is a great alarm to have if you have only one type of alarm as it will detect both types of fire.
Smoke Alarm Resources
The NFPA is a great resource for learning more about smoke alarms. Every second counts in a fire. Knowing you are protected in the case that your house becomes filled with smoke from a smoldering fire and also having the earliest possible warning in case an active fire develops is also very important. Also having your alarms hard-wired into your electrical grid is a great way to gain valuable time in a fire. Once one alarm goes off, the rest of them will as well giving everyone the fastest possible warning time available.
At Reliance Fire Protection, we are your local smoke and fire alarm company in the Washington DC, Baltimore, Maryland, Virginia, and surrounding areas. We have over 30 years of experience designing and installing smoke alarms that can either go into new construction or retrofit into your existing facility. Our NICET certified technicians will work with you to help decide what is the best route to go for your facility that will meet your needs the code for your type of building. Contact us for more information and get a free no obligation quote.