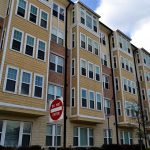 A fire in a Southeast D.C. apartment building injured one person and displaced 20 people in the 12 unit apartment building. The fire started on the first floor of the building and extended to the second floor. This type of fire reminds everyone of the importance of fire sprinkler systems and fire alarm systems for multi-unit apartment buildings. With Home Fire Sprinkler Day celebrated on May 19th, NFPA states that a fire sprinkler system can decrease fire deaths by 80%. Especially for apartment buildings, having the proper fire protection systems in place will help save lives and property.
Here is a link to a Fire Alarm Apartment Safety Tip Sheet created by NFPA about fire alarms in apartment buildings.
Fire Alarm Systems
Fire alarm systems are the first alert for residents that they need to evacuate the apartment building. When the alarm system is hardwired together, the alarms will all sound at once letting everyone know that there is a fire and they need to follow the planned escape route or the safest escape route if the planned route is blocked. There are two typical types of detection alarms, ionized and photelectric alarms. The ionized alarms detect a live fire quicker while the photelectric alarm detects smoldering fires smoke much quicker. It is important to have both types of alarms or the dual alarm that has both detection systems present in a single alarm. That way you are protected the best way possible no matter if is a fast-acting fire or a smoldering fire.
Fire Sprinkler Systems
Fire sprinkler systems can be installed in new construction and can be retrofitted into existing apartment buildings. These systems can seamlessly fit into the aesthetics of the building as to not stand out but still have the fire protection that meets the code for your building. They can be paint matched so that they are barely perceptible to the décor of the building. With 3D modeling, you can see how the system will be installed and be able to see the protection coverage the system will provide. Fire sprinkler systems will give the residents valuable time to escape the building the in the event of a fire. It will also help greatly diminish the destruction the fire will cause the building.
With Reliance Fire Protection, we have over 100 years of combined experience designing and installing fire sprinkler systems and fire alarm systems in all types of residential apartment buildings. Our technicians are NICET certified and experienced with all types of fire sprinkler systems and we take on the complex projects. It doesn't matter if is a multi-building campus or a single large apartment building, our technicians can design, install, and maintain a full fire protection system that will meet the code requirements for your building. We also have a 24/7 emergency response team that will respond to any issue that comes up with your system whether we installed it or not. We offer regular inspections to ensure your system works as well as the day we installed it so you have the fire protection you need. Contact us today to find out why Reliance Fire Protection is Washington D.C.'s full-service fire protection company that you can rely on.