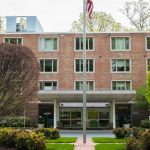 Fire protection systems whether it be fire sprinkler systems, fire detection systems, and or fire and security monitoring systems have continued to become more of a standard in institutions across the country. From retrofitting fire sprinkler systems into old dormitories to alert monitoring for campus wide alerts, having the right protection systems in place can help save lives in the event of a fire or other tragic event.
Fire Detection Systems
Fire detection systems are a crucial part of every institutions fire detection system. Nearly every building has some type of fire detection system but having the correct one installed is very important. From alarms that detect smoldering fires with lots of smoke to alarms that detect an active fire, it is important to have both installed or have the dual sensor alarms with detect both types of fires. Also having the fire detection system hardwired in and connected also gives students and faculty an advanced warning even if they are not close to the source of the fire. These alarms can also be tied into a central monitoring system which could send alerts to the proper authorities for a quicker response time.
Fire Sprinkler Systems
Fire sprinkler systems can be installed in both new construction and also retrofitted into existing structures. If you are building a new dormitory or large hall for classes and labs, having a fire sprinkler or fire suppression system installed is a very seamless application. With 3D modeling technology available, fire technicians are able to add fire protection systems that will give the maximum possible coverage and protection in the event of a fire. Many older dormitories or halls did not have sprinkler systems installed during construction but with today's technology, retrofitting a fire protection system into the building can be done with minimal down time. These systems can be installed in a variety of ways to help make the look more natural like it existed in the first place and also give the same protection as a system installed in new construction.
Monitoring Systems
Alert monitoring systems can also play a large part in helping keep your students and faculty safe. Being able to alert everyone on campus to inclement weather or any other event that may warrant a campus wide alert can be very helpful. Getting the information out quickly to everyone can help save lives if a large storm is coming through and they need to get to shelter. These systems can also relay important information along to the proper authorities and staff of what is happening on the campus.
Reliance Fire Protection has been designing, installing, and maintaining fire protection systems for institutions since 1987. We have a highly trained NICET certified staff with over 100 years combined experience that will be able to work with you to give you the fire protection and alert monitoring systems you want and need. We take on the complex projects and strive to exceed your expectations from start to finish. At Reliance, you can rely on us to help take care of any issue that may arise with our 24/7 emergency response team. We offer regular and annual inspections as well to ensure the system is working properly. Contact us today to get your institutional fire protection systems installed.