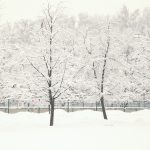 It is extremely important to take care of your fire protection systems during the cold winter months. Proper maintenance goes a long way in making sure your systems do not become damaged by the freezing temperatures. However, we know that it can be difficult to always be prepared for changes in weather. Even when testing, inspections, and maintenance are done the right way, your system still has the potential of being harmed by freezing temperatures.
What Happens When Sprinklers Freeze?
When temperatures drop below freezing, the water inside of the sprinkler's pipes may freeze if it is not properly insulated or heated. As the water in the pipes freezes, it expands. The expansion of the water puts pressure on the pipes and can cause them to burst. If this happens, it can lead to water damage in your facility. A fire sprinkler system that is blocked by frozen water or has a ruptured pipe will not function properly, making your building inadequately protected from a fire. If your sprinkler pipes freeze or burst, you should enlist the help of a professional right away.
If My Sprinkler Pipes Burst What Should I Do?
Reliance Fire Protection is ready to help you with your cold weather emergencies. We provide 24-hour emergency services in the Washington D.C., Northern Virginia and Baltimore, Maryland areas. No matter the time of day, we have technicians available to help you in an emergency.
If your fire protection system is damaged by cold weather, give us a call right away at 443-989-3000 and we will send our emergency response team to your location as quickly as possible. We are experienced in dealing with emergency repairs for issues such as a burst pipe. We will fix your problem as quickly as we can to minimize damage to your building.