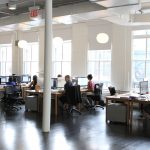 If you are a business owner or an employee, you should take safety seriously while you are at work. Knowing fire safety can help protect a business and its employees from a fire that can have dangerous consequences.
Good Fire Safety Practices for Your Business
1. Create an Evacuation Plan
Develop a plan for how to evacuate the building during a fire. Be sure that all employees are educated on evacuation routes. You should post the evacuation plan around your building in highly visible locations. Have practice fire drills to make sure that everyone in your business is prepared if a fire does occur.
2. Have Fire Extinguishers
Installing fire extinguishers at your place of business can help prevent small fires from becoming large devastating fires. Train employees on how to use extinguishers and make sure they know all extinguisher locations. Make sure your fire extinguishers stay in proper condition by having them inspected in accordance with fire code.
3. Install Fire Protection
Depending on your type of business, you may need varying fire protection systems. Fire sprinklers or a fire suppression system should be installed in your building to protect against the various hazards your business may have. Set up regularly scheduled inspections and service for your fire protection systems so your systems are always ready for action if a fire breaks out.
4. Teach Fire Safety
Creating a company policy for fire safety can go a long way in preventing fires. Educate employees about using electrical equipment or other equipment that may be a fire hazard. Make sure cords and appliances are used properly and unplugged when not in use. Have designated smoking areas and make sure cigarette butts are properly disposed.
Reliance Takes Fire Safety Seriously
At Reliance Fire Protection, we know how important fire safety is for your business and your employees. We can install the fire protection systems that you need to help protection your business from a fire. We can install fire sprinklers and fire suppression systems as well as service and inspect your existing systems. At Reliance, we value the safety of our employees. We take steps to make sure that our employees are safe on the job. Some safety steps we take include:
Daily Safety Huddles
Stop Work Authority
OSHA 10 & 30 Hour
Weekly Toolbox Talks
Jobsite Safety Audits
CPR, First Aid, & Bloodborne Pathogens training
Visit our website to learn more about how Reliance promotes safety in the workplace.