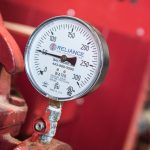 It is extremely important to take care of your fire protection systems so that they function properly when a fire occurs. While basic maintenance of fire sprinkler and alarm systems is the responsibility of the business owner, for more complicated inspections, testing, service and repair it is important to hire the help of a fire protection contractor that you trust. Setting up a service plan for your fire protection systems can provide many benefits including:
1. Keep Your People, Property & Assets Safe
When you set up a service plan with Reliance Fire Protection, you are taking a proactive approach to keeping your people, property, and assets safe. Letting Reliance take charge of your fire protection system inspections, testing and repairs will help to give you peace of mind that your systems will perform as they were designed when needed.
2. Comply with NFPA Standards & Local Code Requirements
Service plans can be created for inspections of your systems on a quarterly, bi-annual, or annual basis or as often as needed to remain compliant with NFPA standards and local codes. The technicians at Reliance Fire Protection are trained and certified and will perform the services required to keep your systems code compliant.
3. One Service Provider for All Fire Protection Systems
Working with Reliance Fire Protection can help you to streamline your fire protection services by getting inspections, testing, service, and repair of all your systems by one service provider. Whether you have a fire alarm system, fire sprinkler system, or special hazards suppression system, there is no need to call multiple fire protection contractors when you have a service plan with Reliance.
4. 24-Hour Emergency Service
When you have a service plan with a fire protection contractor who you trust, you know who to call when there is an emergency with your fire protection system. Reliance Fire Protection offers 24-hour emergency service and will dispatch a technician to your facility as quickly as possible. In addition, we will already be familiar with your building and its fire protection systems which will make fixing your problem easier.
5. Streamlined Reports Kept on File at All Times
Reliance Fire Protection keeps all your service reports on file at all times. You can access your service reports whenever you need them and easily find reports for all your system in one convenient place.
6. Tailor a Service Plan that Meets Your Needs
At Reliance Fire Protection, we tailor fire protection service plans to meet your needs. If you need off-hour testing and inspections to avoid disruption to your business, we can do it. Whatever inspection and testing frequency you need, we will accommodate. In addition, we provide courtesy reminders for all service calls.
Need fire protection service plan? Contact Reliance Fire Protection today! We serve commercial, industrial, historical and government properties in Baltimore, MD and Washington D.C. Our team will help you create a service plan that best fits your needs.